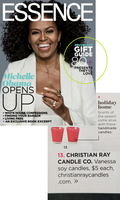 Christian Ray Candle Co. Made the List!
We are thrilled to be #13 on Essence's Magazine Gift Guide! Be sure to shop our amazing soy candles!
Shop
Reviews
These candles are highly fragrant and leave a nice, lingering scent even after you've blown them out. I absolutely love them! Shipping is quick and easy, and there is even a rewards system on the website! You will not be disappointed at all. I'm anxiously awaiting my next shipment.

T.H.
I received one of these candles in the TCF Style Expo in the gift bag for the panelists. I LOVED IT SO MUCH that I had to order some as holiday gifts.

G.D.
They smell good! GREAT variety of scents! They last LONG! Priced RIGHT! Delivery is QUICK and customer service is IMPECCABLE! What more can you ask for?.... OH! The FREE give-a-ways and community relations!!
I LOVE Christian Ray Candles!!

D.P.
The items were securely packaged and arrived as expected! They all smell absolutely amazing and I'm loving how the pomegranate candle is burning. Sweet and clean aromatherapy!

D.B.